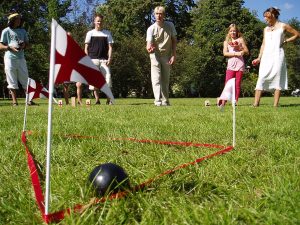 A unique game of skill, Tournament of Knights is ideal for garden parties or just fun in the park, and is from the same family of games as the more well-known Kubb.
An outdoor game for 2 to 12 players in 2 teams, the aim is to knock over the opponent's Lady which is guarded by two knights.
Players aim to land their balls in each of the target triangles and, once that's done, they can then attack the opponents knights and finally capture the Lady herself.
This is a high quality quality Riddarspelet game from its native Sweden which is supplied in a canvas bag.
Dimensions of Knights are 15cm high x 58mm sq, Lady's 20cm high x 58mm sq.
Rules can be found on the Riddarspelet website.